Newsletter from TQC:
Pine Burr Quilts

We have owned this fabulous quilt for some years now, and thought (as Independence Day approaches) this would be the perfect time to share it with our friends and customers.
This mid-20th century "Pine Burr" quilt features a rare – perhaps unique – organization of the pieces into a wildly exuberant Patriotic picture!

"Pine Burr" Quilts are among a group of "novelty" quilts whose heyday was the early to mid-20th century.

Other types of novelty quilts we see from that era include "Yo-Yo," "Biscuit," and "Cathedral Windows" – all of these with a "3-D" component. Pine Burr quilts, also called Pine Cone,Target, and a few other names, are made by folding fabric into triangles and then sewing down only one side.

By organizing colors (or choosing not to), the quilt maker arranges an overall design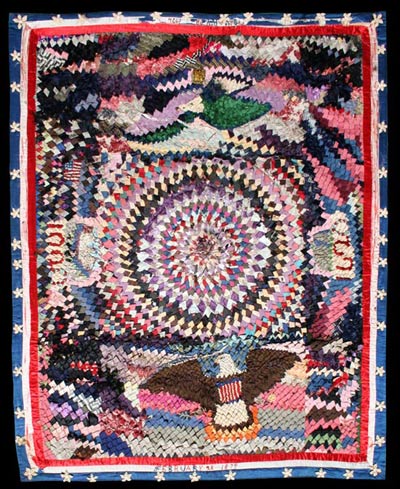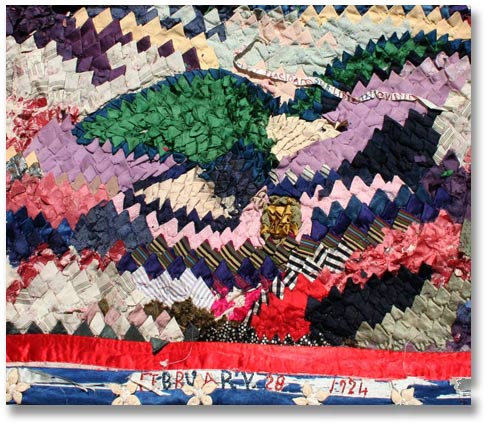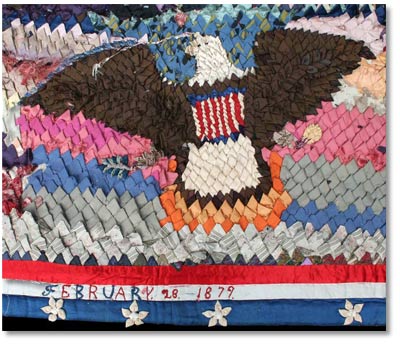 Most ~ almost ALL ~ Pine Burr quilts are organized into circles or "targets." We've seen a few organized into vertical strips. But most are circular… Once in a while we see a more personalized variant of the circle format…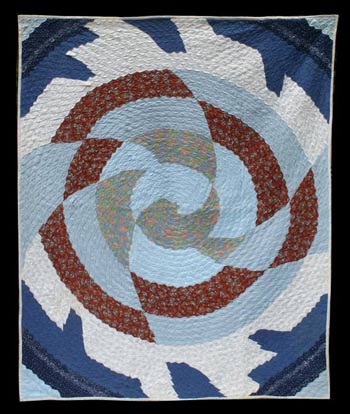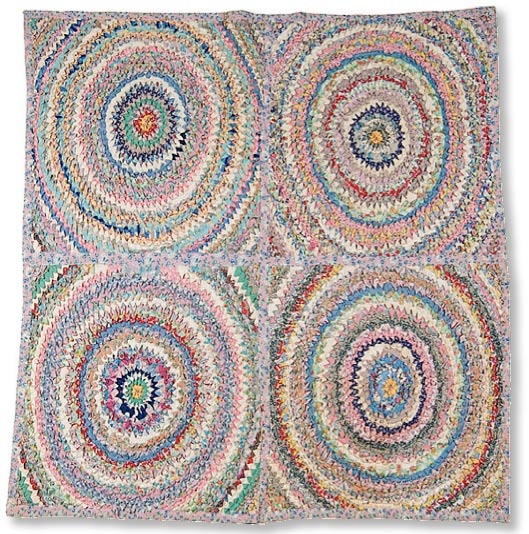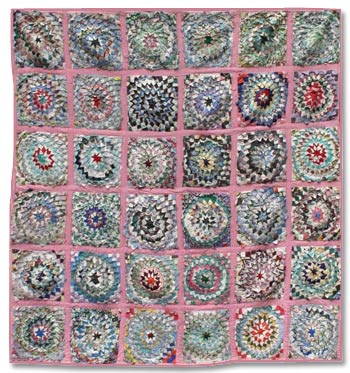 Only once in a (Red, White and) Blue Moon … maybe …
(In fact, we know of no others.)
Here it is ~ one passionate quilt maker's Super-Joyous Vision made real ~ for your Fourth of July viewing pleasure ~ truly Home Made Patriotism!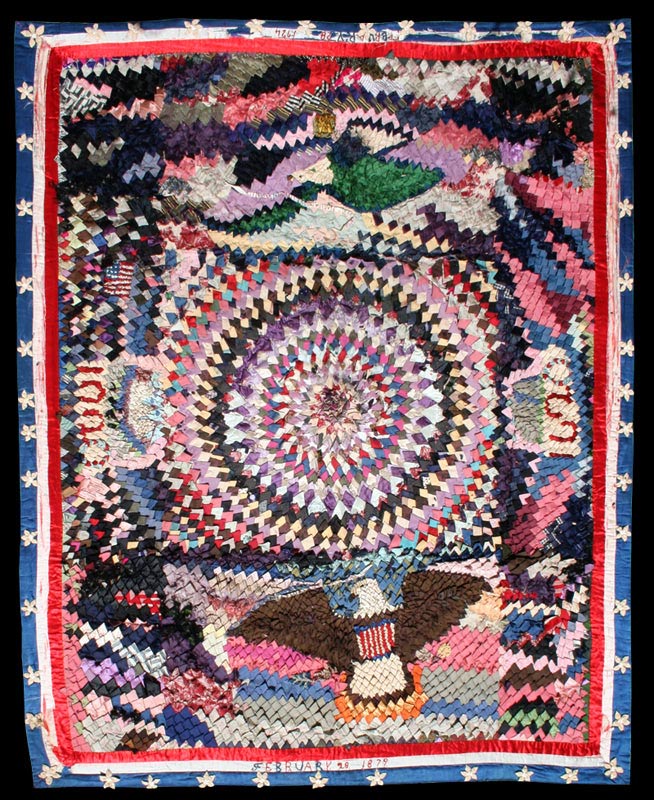 Her design "starts" in the center with a spectacular giant Ferris Wheel of a "target,"the characteristic unit of Pine Burr quilts. But then the quilt maker takes off like a Fourth of July Rocket!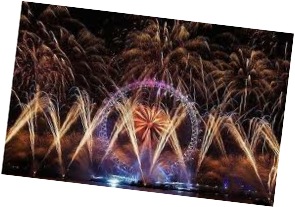 Somehow, she creates ~ from thousands of folded silk units ~
A hovering Eagle and a soaring Eagle, each of them with ribbons in their beaks ~ the ribbons are embroidered with Patriotic sayings in Latin ("E Puribus Unim" is the familiar one.)

She also "wove" into the design two mysterious sets of numbers, and even an American flag, all the result of the quilt maker's skillful planning and placement of small units of color.

In her red, white, and blue pieced borders, the maker embroidered two dates whose significance we are yet to understand: February 28, 1879 and February 28, 1924

Though we do not know the date the quilt was made, we know it was some time after February 28, 1924. It was likely made in the 1940s ~ the colors and images strongly suggest the World War II era.

We bought this quilt in California a few years ago from someone who, unfortunately, knew nothing of its history.

Most of the currently documented examples of Pine Burr or Target quilts were made in the South, some by African Americans and some by Whites.

Both the Lumbee Indian tribe in North Carolina and the state of Alabama claim the design as their own. Alabama has made the "Pine Burr" its State Quilt!

No one seems to be sure of the origin of this intriguing style!
(For more on the genre of Pine Burr quilts see the Links below.)
Have a safe and happy July 4th weekend!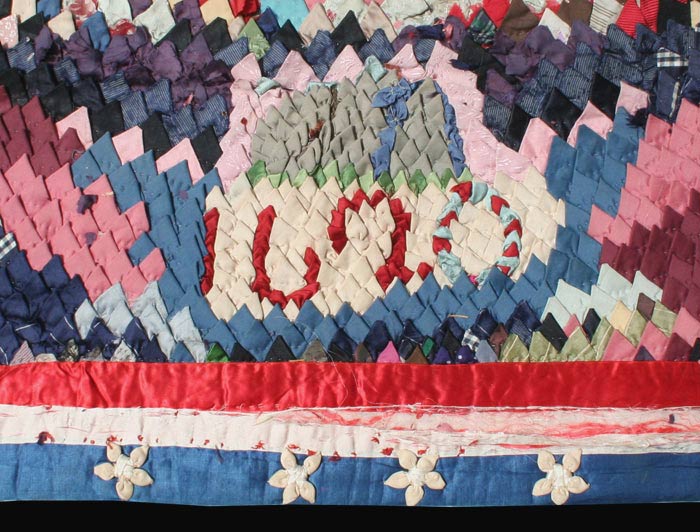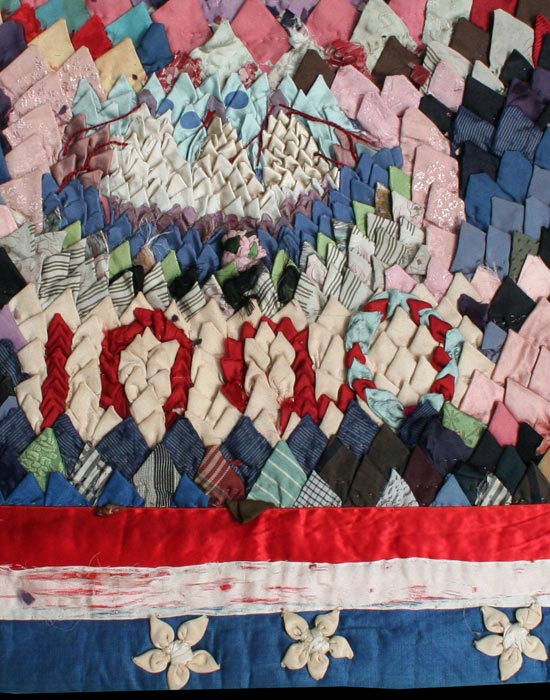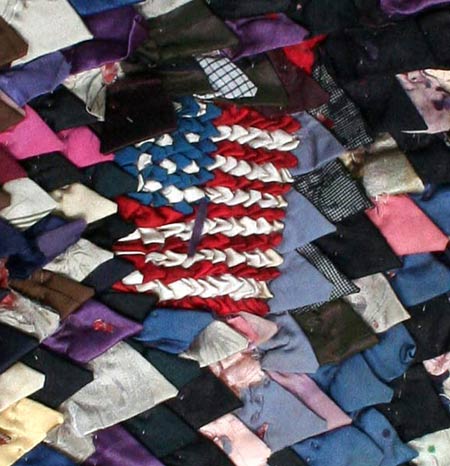 Labels: 6-17-pineburr article